Company Profile
Vinylcraft Extrusions Ltd. is a quality custom vinyl extruder primarily serving the window and door industry.
About Us
At Vinylcraft, we understand that Quality and On Time Delivery are essential in today's highly automated and lean manufacturing environments.
Our Craft is custom profile extrusion, focusing on the Fenestration Industry. By utilizing the latest technology in extrusion equipment, coupled with one of the finest commercially available PVC compounds, we have the essential components required to produce products of the highest quality.
Our foremost priorities are Extrusion Excellence, Customer Service, and providing a Healthy and Safe working environment for our employees.
Product Stewardship is a term we take seriously. We believe in standing behind the products we produce, long after passed onto the final consumer. Only Certified compounds are used in our extrusions.
Strategically located in the city of Mississauga, our facility boasts in-house Design / Engineering services as well as Extrusion Tool Manufacturing, giving us total control and flexibility of our manufacturing process.
Our History
Vinylcraft opened in April 2009, operating 7 Extrusion lines. We brought the best practices from years of industry service to create an efficient operation, producing the best possible quality extrusions. The driving force at Vinylcraft is a team of Managers, each bringing a wealth of experience in a particular discipline, doubling production capacity and more than tripling sales by 2016.
Service Focused
We have continued to focus on providing consistently superior products to you the customer, as well as developing strong relationships that enable us to create effective solutions for your business. That is why we have continued to grow year after year. Equally important to our customers is access to quick and accurate information. Our Service Team strives to assist our customers from point of order to point of delivery.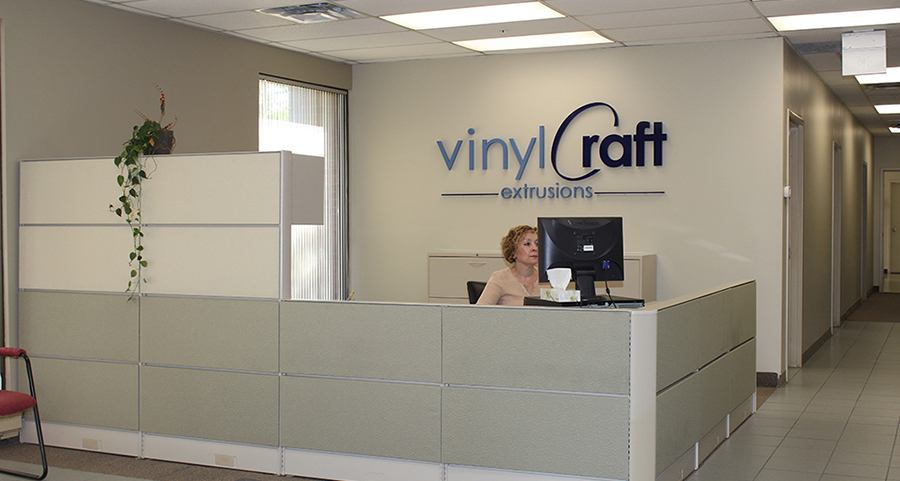 Our goal is to be a vinyl extruder you can depend on for all your material requirements.
Our Extrusions Services Include:
Capstock
Custom Packaging
Online Weather Strip Insertion
Co-Extruded Flexible Gaskets
Cut to Length 48" to 250"