The Vinylcraft Difference
At Vinylcraft, we believe that every customer is as unique as their requirements. Our model is based on creating customized solutions to provide our customers what they need, when they need it. There is no outsourcing at Vinylcraft, we only sell extrusions produced in our facility. This ensures our customers that every profile uses the same materials and undergoes the same quality inspections.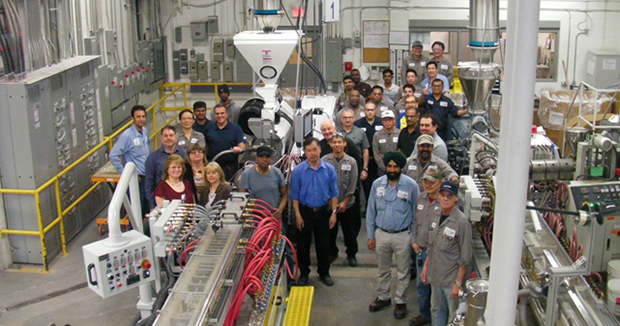 Through strategic partnerships with our suppliers, Vinylcraft works with engineers armed with the latest technologies to provide us with solutions and innovations to keep our customers at the forefront.
Producing a High Quality Extrusion
A Quality PVC Compound + State of the Art Machinery + Highly skilled Technicians = High Quality Extrusions
Not all compounds are the same, and there is certainly no other compound like ours. Specifically developed for Window and Door Profiles, it has a field service history of over 30 years, and AAMA Certified.
Conical Twin screw extruders are used for every profile we produce. They are equipped with state of the art controls, for accurate and consistent processing.
Our Technicians are trained in every facet of the extrusion process, enabling them to troubleshoot problems quickly and efficiently.
We cater to you
Every employee at Vinylcraft is a team member. We combine years of experience with young, fresh minds to develop new processes, identifying efficiencies and all the while focused on providing our customers with the best possible supply chain service.
We stand behind the products we extrude and ensure each one undergoes quality inspections: from the moment raw materials enter production, until the moment it leaves our facility. We believe it is important to provide our team members with a safe and dynamic manufacturing environment, allowing them to achieve their full potential.